VINTAGE SIZING
If you are familiar with vintage clothing, you are aware that sizes have changed throughout the years and vary from country to country as well. Vintage clothing is cut much closer to the body than modern garments. For this reason, it is important that you allow enough wearing ease to move comfortably and measure your body accurately.
Enough wearing ease refers to the difference between your body measurement and the measurement of the garment. A close fitting piece needs at least
2,5 cm – 5 cm / 1" – 2" of wearing ease so that you can move and breath.
When measuring yourself remember not to pull the measuring tape too tightly. Be honest with yourself! Do not forget to measure over the undergarments you plan to wear, but not over other clothing.
Please use the measurements listed for a proper fit. The best method is to measure a garment that fits you well and then compare it to the measurements of the item.
We measure our garments flat on a hard surface and do our best to be as accurate as possible.
If there is a measurement we neglected to include that you feel would help your decision, please do not hesitate to contact us and ask for the specific measurement you need, and include the item description in your request: info@oh-jackie.com
Oh! Jackie Clothing Measurements Chart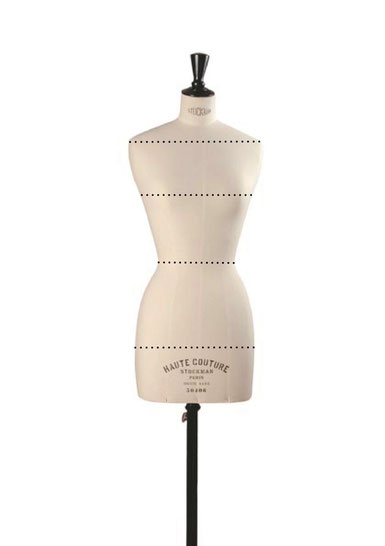 Shoulder seem to seem
Measure at fullest part of bust
Waist measurement
Measure at fullest part of hips
International Size Conversion Chart
(Corresponding Modern Sizes)
| | | | | | | | | | | | | | | |
| --- | --- | --- | --- | --- | --- | --- | --- | --- | --- | --- | --- | --- | --- | --- |
| UNI |   | XXS |   | XS-S |   | S-M |   | M-L |   | L-XL |   | XL |   | XXL |
| Germany |   | 32 |   | 34 |   | 36 |   | 38 |   | 40 |   | 42 |   | 44 |
| Italy |   | 38 |   | 40 |   | 42 |   | 44 |   | 46 |   | 48 |   | 50 |
| France |   | 34 |   | 36 |   | 38 |   | 40 |   | 42 |   | 44 |   | 46 |
| UK |   |  6 |   |  8 |   | 10 |   | 12 |   | 14 |   | 16 |   | 18 |
| USA |   |  2 |   |  4 |   |  6 |   |  8 |   |  10 |   | 12 |   | 14 |