ALL ABOUT OH! JACKIE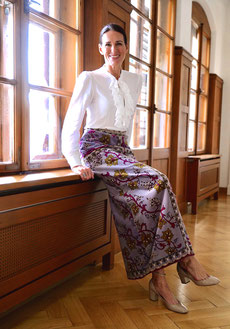 Lovely Ladies – and Gents, of course,
My fascination with vintage fashion and any kind of antiques began when I was just a young girl. Grown up with a highly fashionable mother and an antiques collecting father, I spent almost more time in fashion ateliers and on antique markets than on the playground. No wonder that both passions passed on me.
I remember as a young woman wearing a little black dress from the early 1960s for a cocktail party and how elegant and special I felt. These days the idea of starting a business for antiques and vintage fashion sometime later began to grow in my mind.
Time passed by, careers changed, but my obsession of vintage fashion and pre-loved objects became stronger year by year. And finally my dream came true!
Welcome to Oh! Jackie. Your online destination for hand-picked beautiful and rare vintage couture and fashion finds. High and low. Relevant and wearable. Cherished by museums, designers, celebrities, collectors, stylists and wonderful women worldwide. Dare to be unique and enjoy shopping!
Lots of love,
Elisabeth
PS: If you are looking for a specific item, please contact us and we will be happy to search our inventory or keep an eye out as we are always on the hunt for great pieces. We have many items that we simply have not yet had the time to list them.